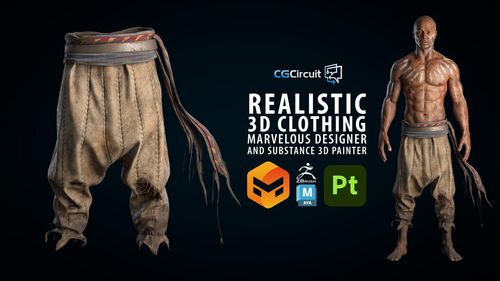 Realistic 3D Clothing
MP4 | Video: h264, yuv420p, 1920x1080 | Audio: aac, 48000 Hz | Duration: 11h 42m | 29 GB
Genre: eLearning | Language: English​
In this online course, the viewer will learn how to create realistic torned clothing ready for production using Marvelous Designer, Zbrush, Maya and Substance Painter. We will go through the Marvelous Designer user interface and its main features. Using as an example our character from the previous courses we will create his clothing, we will retopology, sculpt on them and texture them to get them ready to be animated. We will do all the clothing simulation in Marvelous Designer, the sculpting in Zbrush, retopology and UVs in Maya and the texturing in Substance 3D Painter.
This course has been designed for beginner and intermediate students with a passion for realism, garments and 3D characters in general.
This is the 4th of a series of tutorials where we will create a full 3D character ready for production. For this course, you will need to have a basic previous knowledge of Marvelous, Zbrush, Maya and Substance 3D Painter as in this course we don't teach the software itself but the fundamentals of the creation of a character and the full workflow to make it ready for production.
Key takeaways
- Understanding of the key elements of Marvelous User interface.
- Ability to create 3D garments
- Ability to create an animatable topology ready for production
- Ability to create good sets of UVs
- Ability to create primary, secondary and tertiary clothing details.
- Understanding of a texturing process for clothing using procedural and more artistic approaches in Substance 3D Painter, but with techniques that can be applied also in Mari or other texturing software.
- Understanding of the entire workflow of garment creation, not limited to softwares used in the course.
After viewing this course, people can expect to be able to create 3D clothing using the same workflow used for film, TV production, games and the metaverse. This is a key element in the process of getting a job as a Character Artist in the industry or just to make successful 3D character art pieces.
I am a designer, 3D Character and asset artist from Argentina working as a Modeler in Digital Domain 3.0. I love to work on realistic characters and I try to push my limits in each piece. Two of my main personal projects were the "Bedouin Elf " and ''Alejandro - Gaucho Argentino''. With the Bedouin Elf, I was lucky enough to get it selected on the Zbrush Summit 2020 Highlights and that gave me a lot of exposure. Thanks to this project I was invited to collaborate with Adobe Substance 3D Painter to create ''Alejandro'' for the Substance 3D Magazine.
I am excited about sharing my workflow with you and helping you to get the first steps in this amazing world of character creation.
Tools used: Autodesk Maya, Marvelous Designer, Substance 3D Painter, ZBrush
Prerequisites: a basic previous knowledge of Marvelous, Zbrush
Code:
https://www.cgcircuit.com/tutorial/realistic-3d-clothing
Code:
https://nitroflare.com/view/06A3B71AC193B4E/Realistic_3D_Clothing.part01.rar
https://nitroflare.com/view/78D80028AA275FF/Realistic_3D_Clothing.part02.rar
https://nitroflare.com/view/24959A57AABDA41/Realistic_3D_Clothing.part03.rar
https://nitroflare.com/view/892E50915F19695/Realistic_3D_Clothing.part04.rar
https://nitroflare.com/view/113D938C946BB5A/Realistic_3D_Clothing.part05.rar
https://nitroflare.com/view/DD95BE7A782F00D/Realistic_3D_Clothing.part06.rar
https://nitroflare.com/view/824DE91BF4EA4B8/Realistic_3D_Clothing.part07.rar
https://nitroflare.com/view/A319C6FCE03F918/Realistic_3D_Clothing.part08.rar
https://nitroflare.com/view/119C6F778A135E1/Realistic_3D_Clothing.part09.rar
https://nitroflare.com/view/707DE12EAC25B15/Realistic_3D_Clothing.part10.rar
https://nitroflare.com/view/1F97D4B894BA056/Realistic_3D_Clothing.part11.rar
https://nitroflare.com/view/5CC6FFC34F6F53D/Realistic_3D_Clothing.part12.rar
https://nitroflare.com/view/ED39B07AD87F163/Realistic_3D_Clothing.part13.rar
https://nitroflare.com/view/13FDFC8B991AC0F/Realistic_3D_Clothing.part14.rar
https://nitroflare.com/view/6328D08A0687135/Realistic_3D_Clothing.part15.rar

https://rapidgator.net/file/82d703680b4e653fad50e49bc7b1cc70/Realistic_3D_Clothing.part01.rar.html
https://rapidgator.net/file/cb35a550dfa2a9cef5763b8fe70cf82f/Realistic_3D_Clothing.part02.rar.html
https://rapidgator.net/file/8313a3593cf036fac75760922d734499/Realistic_3D_Clothing.part03.rar.html
https://rapidgator.net/file/893714386dc37d3bc9fe374eb77f9702/Realistic_3D_Clothing.part04.rar.html
https://rapidgator.net/file/00f2a7323193d26067614a05d99ff88b/Realistic_3D_Clothing.part05.rar.html
https://rapidgator.net/file/5beed1eb2dd62ba1cf75c2ea9fa3e5fa/Realistic_3D_Clothing.part06.rar.html
https://rapidgator.net/file/4f9668df7eed4e3f243576d7b5cfe268/Realistic_3D_Clothing.part07.rar.html
https://rapidgator.net/file/dbc0f227f3ed9d979230693d97fa7dcf/Realistic_3D_Clothing.part08.rar.html
https://rapidgator.net/file/9f1b485980ffe26359e8ed1e51c1f3b0/Realistic_3D_Clothing.part09.rar.html
https://rapidgator.net/file/7fd95026ddd197683eacf95f8f30cd7b/Realistic_3D_Clothing.part10.rar.html
https://rapidgator.net/file/037e891cd8511328182968de03569eae/Realistic_3D_Clothing.part11.rar.html
https://rapidgator.net/file/d78bc36714155e93427aeef2288367ce/Realistic_3D_Clothing.part12.rar.html
https://rapidgator.net/file/4e0135ce0f3e67b60d984956d71bb3cd/Realistic_3D_Clothing.part13.rar.html
https://rapidgator.net/file/7d497c9e39e3896983b9a8d945ae4fe0/Realistic_3D_Clothing.part14.rar.html
https://rapidgator.net/file/95ae8a0815b34e4ab01b4152f20a1622/Realistic_3D_Clothing.part15.rar.html