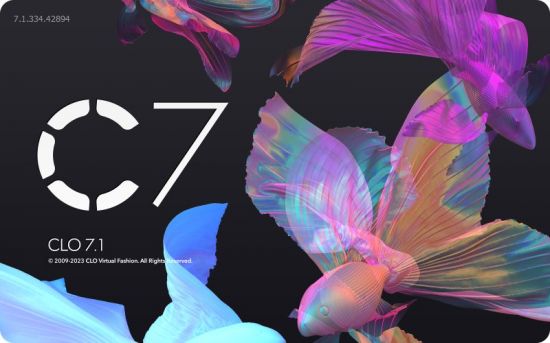 CLO Standalone 7.1.334.42894
Languages: Multilingual
File Size: 1.82 GB​
Create true-to-life designs, only in CLO. Accurately visualize the fabric, fit and silhouette of your designs as fast as you can imagine them. CLO gives you a familiar, easy-to-use interface which enables you to visualize your designs in a way that is quick and hassle-free. Significantly shorten your time-to-market with virtual sampling and remote collaboration.Designing with virtual garments reduces sample production, shipment and material waste.
Dive right into design
Get inspired by prepared pattern blocks and sketch directly on your avatar to generate pattern pieces automatically.
Real materials, simulated
Our true-to-life 3D garments make it easy to fine-tune the fit of your designs - even for drape-sensitive fabrics, like lightweight wovens and jerseys.
Explore endlessly
With 100% accurate digital samples, you can explore every idea and inspiration freely in the most sustainable way - at no cost.
Showcase and merchandise
Evolve your E-commerce by using our natural simulation environment to display and merchandise your 3D garment collections as soon as you create them.
7.1 New Features
Seamless Texture Generator
Seamlessly generate texture maps with scanned or captured images, and check the results in real-time within the 3D window.
Auto 3D Arrangement
Automatically arrange patterns around the Avatar in the 3D window.
Realistic Zipper Teeth
Creates zipper teeth as an OBJ to express realistic zipper.
Roll Up
Easily roll up to express various styles.
Auto Convert to Motion
Converts various motion files from external platform into motions for CLO Avatars. Converted motions are compatible with all CLO Avatars.
Avatar Size Editor Improvement
Easily adjust the Avatar size by entering weight.
Trim I Add Style
Easily manage Trim by style in Object Browser.
Grading I Review Editor
Easily review Grading without switching Modes.
Other Features
Parametric Pattern Improvements
- Parametric patterns will be automatically arranged and sewn.
- Edit Style Line by entering exact dimensions.
Style Line I Edit by dimensions
Edit Style Line by entering exact dimensions.
3D Seamline Expression
Express 3D Seamline using Normal map.
Sewing Tension I Add Preset
Sewing Tension preset (Stretch, Ease) will be added.
Fabric I Group Setting
Easily manage fabrics with Group Setting by fabric types.
Zipper I Set various Material Type to Slider and Puller
Set various Material Type to Sliders and Pullers.
Topstitch I Add Custom OBJ
Add custom OBJ as Topstitch for various expression.
Avatar I New Accessory Types and Hand Poses
New accessory types (glasses and earring) and hand poses for Avatar will be added.
Render I Light Presets
Various light presets are now provided.
Minimum System Requirements
- OS: Windows 10 64-bit (1903 or later)
- Processor: AMD® Ryzen 5 1500X or Intel® Core-i5 6400
- RAM: 8GB
- Graphics Card: NVIDIA® GeForce GTX 960 or NVIDIA® Quadro P2200
- Storage: HDD 10GB or more
- Screen: 1920x1080@60Hz
Recommended System Requirements
- OS: Windows 10 64-bit (21H1 or later), Windows 11 64-bit
- Processor: AMD® Ryzen 4th Gen 7/9 5000 series or Intel® Core-7/9 11th Gen or later
- RAM: 32GB or more
- Graphics Card: NVIDIA® RTX 3000 series or NVIDIA® Quadro RTX , RTX A series 3) 4)
- Storage: SSD 20GB or more
- Screen: 2560x1440@60Hz, 4K supported
Homepage
Code:
https://nitroflare.com/view/6207A95B990B4FC/CLO.7.1.334.42894.part1.rar
https://nitroflare.com/view/08F6B33D8738E45/CLO.7.1.334.42894.part2.rar

https://rapidgator.net/file/037335b9f2df1083042ed8f4b103a480/CLO.7.1.334.42894.part1.rar.html
https://rapidgator.net/file/6e5c077789fb7ceb24cb993f1fcaf75e/CLO.7.1.334.42894.part2.rar.html