Lordi - Recordead Live - Sextourcism In Z7 (2019, Blu-ray)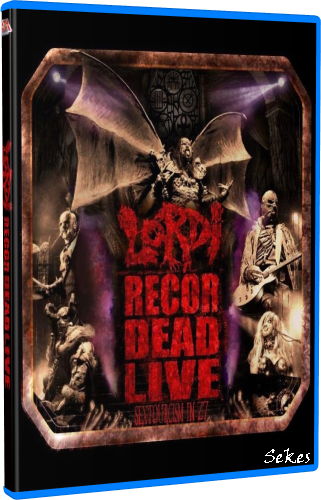 Title:
Lordi - Recordead Live - Sextourcism In Z7
Year of release:
2019
Genre:
Heavy Metal, Hard Rock
Released:
AFM Records
Cast:
Lordi
Tracklist
:
Creepy-crawly atmosphere in summer: On 26th July, the Finnish monsters LORDI release their brand-new Blu-ray "Recordead Live - Sextourcism In Z7" via AFM Records. Besides the live cut of the show in Pratteln/Switzerland during their latest "Sextourcism" tour, the Blu-ray provides a lot of bonus material, including some real rarities. The Live show itself has a playing time of two hours. "We just cut a little bit of my stupid announcements on stage", so Mr. Lordi about the impressive duration. "Apart from that, everything that happened this evening ended up on this Blu-ray ." The choice of the Z7 is a matter of duration as well: There is no club that hosted LORDI as often as the location next to the German border. On every tour the band played, the musicians hit up in Z7. For that reason, the club became something like a second home to the Finns over the years. The issue of recording a Blu-ray is a premiere: Though there are some live records of LORDI, "Recordead Live - Sextourcism In Z7" is the first official Live Blu-ray, fully approved by the musicians. A plan that LORDI had been pursuing for years and finally were able to put into practice during the "Sextourcism" tour. Mr. Lordi about: "I am very happy that we waited until the "Sextourcism" tour, because we look amazing, the stage looks amazing and everything was perfect to create a stunning Blu-ray." The bonus material is stunning as well: Alongside a tour diary with LORDI, the Blu-ray provides all of the official video clips the band ever made. Among them a real rarity, the very first official music video for "Inferno" made in 1995.
1. Sexorcism
2. Would you love a monsterman?
3. Missing Miss Charlene / House of ghosts
4. Your tongue's got the cat
5. Heaven sent hell on earth
6. Mr Killjoy
7. Mana solo
8. Rock the hell outta you
9. Blood red sandman
10. It snows in hell
11. Hella solo
12. She's a demon
13. Slashion model girls
14. Naked in my cellar
15. Rock police
16. Ox solo
17. Hug you hardcore
18. SCG9: The documented phenomenon
19. Evilyn
20. The riff
21. Amen solo
22. Nailed by the hammer of Frankenstein
23. Devil is a loser
24. Hard rock hallelujah
Bonus Content: [01:01:40]
1. Inferno 1995 [00:05:15]
2. Would you love a monsterman? 2002 [00:03:06]
3. Devil is a loser 2002 [00:03:41]
4. Blood red sandman 2004 [00:03:49]
5. Hard rock hallelujah 2006 [00:03:14]
6. It snows in hell 2006 [00:03:45]
7. Who's your daddy 2006 [00:03:46]
8. Would you love a monsterman? (2006 Version) [00:03:18]
9. Bite it like a bulldog 2008 [00:03:14]
10. This is heavy metal 2010 [00:03:00]
11. The riff 2013 [00:03:44]
12. Scare force one 2014 [00:04:28]
13. Hug you hardcore 2016 [00:04:09]
14. Naked in my cellar 2018 [00:05:28]
15. A day in the life of Sextourism by Jessycho - documentary [00:07:43]
Quality:
Blu-ray
Video:
MPEG-4 AVC / 17093 kbps / 1080i / 29.970 fps / 16:9
Audio:
English LPCM 2.0 / 48 kHz / 1536 kbps / 16-bit
Total Size:
23.36 GB
Total Time:
02:02:20
Download Hoster: rapidu.net, hitfile.net, uptobox.com, turbobit.net